Testimonials
What People are Saying
Over the decades, our clients have given us thousands of testimonials. Below are a few of the testimonials for your review. Reed Consortium is a marketing solutions and consulting firm helping our clients gain more customers at the lowest cost. We enjoy helping our clients obtain their goals in a timely, cost effective way and hearing about their results.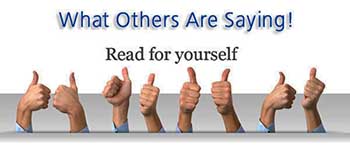 Since middle 1990's I started working with your company and you helped me sell thousands of products.  As the marketplace changed, your company  kept my advertising working correctly.  You gave me marketing techniques I never would have received anywhere else.
My company has used Mr. Reed's advertising and marketing services many times over the years and each time was a complete success. From building websites, to helping develop sales, to helping control costs, you have been a huge asset
You are the third company in two years I have hired to help me develop my web site and hopefully make it profitable. Last month it was profitable for the first time, and I owe it all to the personal instructions and help you guys have given me
I have followed your technics for many years and it has been very successful and economically rewarding.  A hands on company caring about the customer succeeding. You treated me like a human, not a number and the results show it.
For 10+ years I have followed the marketing / advertising program your company has designed for me. My company has sold many products online and off line for higher profits, thanks
I am a new client for only four months and I am thrilled with the results so far. What was promised to me and what was delivered was more than expected.
I bought your website ranking program and really did not understand it.  But truthfully I have not fully understood all the other projects I have bought over the years from your company, but I know they worked.  Once again, I was not disappointed,
Skeptical was my attitude when I bought your guarantee web positioning, but within 74 days you reached your goal with 26 days to spare.  Great work and delivered ahead of schedule.  Perfect business experience
I have been working with Reed Consortium for a few months now and I must say they are the best in the business.
I have seen my rankings increase almost immediately and this is exactly what I had hoped for. Thank you
I am very happy with the end result. I tell everyone if you are looking for someone who can help you get the results you want, then look no further. Reed Consortium is for you.
Thank you. I am very pleased with the results from your company, Reed Consortium. You and your staff are professional and very responsive. I tell my friends about your amazing service.
You really over provided what you guaranteed.  That is a first for any company I previously used online.  Your new lifetime customer. Thank you.
I do not understand how you do it, but once again your service made another one of my websites catapult to the top.  My sincere thanks
Everyone in my company highly recommends Reed Consortium. They are professionals and experts
My rankings increase almost immediately. The new customers coming to my website is outstanding.
My business has never been better.  The Pandemic had me worried but your proven methods have saved my 20 year business.  My family thanks you
I am a new client for only four months and I am thrilled with the results so far. What was promised to me and what was delivered was perfect.
Reed Consortium has proven to be a great asset for me. The team is knowledgeable and responsive, the results speak for themselves. Five star work!
Best service I have ever bought for my company. Our website is being seen by more potential customers daily and it is exactly as you said it would happen. Thanks
Your book on Website Guaranteed Ranking is genius. I really found a lot of information which helped boost my company significantly in the search engine rankings. I must admit paying $59 for the book seemed high but it has already made me thousands. Thanks for the insider knowledge.
I must admit I was a little hesitant in paying for your website ranking program. Even before you were finished raising my website ranking I was getting new customers. I will become your best spokesperson for your services. You have made a significant increase in my family wealth and it is something I will always be appreciative.
Seldom do I give a testimonial but your company went above and beyond to fulfill my needs of finding new customers. It was a sincere pleasure to work with your staff. Mr. Reed you have created a wonderful company delivering exactly as you promised on time.
Your ranking program saved my company. The competition was to wealthy and I had no chance until I was introduced to your guaranteed programs. What a life savor, I will always thank you for the professionalism you displayed and the results.
I highly recommend the Reed Consortium website ranking programs for anyone looking to increase their rankings. It really works.
Not only do you guys have amazing customer service, but you also have a wonderful marketing team helping us grow our business.
Great service, awesome staff, thanks for the boost my website got with you programs
Great company with real results, I really appreciate your services.
I must admit, I knew nothing about marketing and attracting more customers. I was looking for people to help me with my website rankings. You company handled everything from A-Z. Thanks for your wonderful services it has made a huge increase in sales.
It was amazing your staff were always there to help with any questions I have. I tell all the people I know, If you are looking for a professional team who knows exactly what they're doing and gets results without breaking the bank, then Reed Consortium is the company for you!
Your expertise and knowledge of the search engines and how they work has helped me build a strong foundation on which to expand my business and reach the online audience I had always wanted. Thks
Working with Reed Consortium has been extremely beneficial to my business. It's been a great experience and I highly recommend them to any who owns a website.
Thank you. Working with Reed Consortium has been extremely beneficial to my business. It was a great experience and I highly recommend them to everyone.
Thank you for the time and effort you put into my business. It is clear you are a valued partner in our success, as well as finding us many new customers. Thank you again!
If you are looking for a team who can get your site to the top, look no further.
Reed Consortium increased my site's rankings and would highly recommend them if you are looking to increase your rankings!
I was looking for a reputable internet marketing company and found Reed Consortium. I am so glad I did. After working with RC for a few months, my rankings have increased dramatically. I salute your great work and it is exactly what I hoped the results would be. Dozens of new customers already. Thanks
After only two months of working with your company, I saw major improvements in my rankings. Thank you for continuing to monitor my site and making adjustments as needed. Now the ranking is stable and shows no signs of dropping off ever.
I had tried to increase my rankings on my own but it was almost impossible. I had a few companies give it a try in the past but the results were minimal at best and the cost was very high. I contacted your company and you said it was possible to increase my rankings using some proprietary strategic methods. You started immediately and gave me periodic reports which were easy to understand, made recommendations and were very careful not to waste money on things not producing results.
Hands down the best company I've ever worked with. They are super professional and very friendly! The service is extremely consistent and I see amazing results from them. No one else can compare to Reed Consortium! My site in the first year has tripled the number of new customers and the conversions have been amazing. Truly a great experience working with your company and i hope you know how much i appreciate the revised company you gave me back.
I would recommend them to anyone who wants their business to see an increase in traffic and sales.
You guys are the best in the business. I bought your program and within a month had new customers.
Should you desire to see many more testimonials we will be happy to provide those to you. Use our contact us form to ask for more testimonials. We are very proud of our work with our clients and their testimonials are additional proof how well our programs work.
Are You Ready to be the Next Testimonial?